DO YOU NEED TO DESTROY YOUR E-WASTE AND SHRED YOUR DOCUMENTS AT THE SAME TIME?
We know how important it is to securely destroy sensitive and confidential information that your company no longer needs, no matter where this information is located, whether on electronic devices or on paper documents.
That's why EShred offers you a super special offer to save you money and, most importantly, ensure efficient and secure destruction.
Order one E-waste bin and get a
FREE load on-site document destruction bin. Yes, it's

FREE!
Order Now with our professional and friendly customer service staff.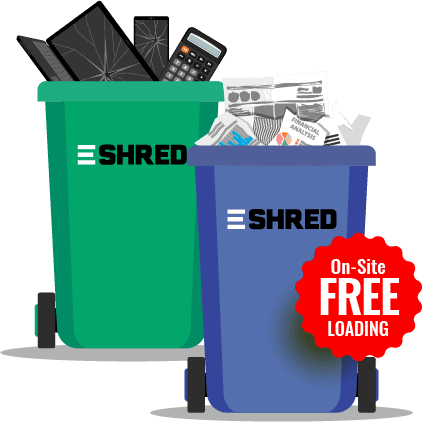 Hurry...! Don't miss out on this spectacular promotion.
Order online or call us 1300 629 875 with our professional and friendly customer service.
Drivers collect the E-waste & Document shredding Bin. For your convenience, all our vehicles have GPS tracking.  
Your e-waste & Document shredding Bin will be transported to our secure facilities to be securely destroyed.
All non-recoverable by-product materials are recycled.
Terms and Conditions apply.
–

Offer valid only with the Total E- SHRED Bin payment of $495 + GST
The promotion is only for one document shredding bin (240L).
The Document shredding bin can only be filled and loaded on-site on the same day as the E-Waste collection.
The promotion is only Sydney and Metro areas.
Service comes with a Certificate of Destruction.
Limited time offer. From 5th until 31 of January 2022.

–
What kind of devices or materials are collected?
Currently, people are asking about what kind of devices can be recycled or destroyed?  
The following list helps you to clarify:
Cameras & Photographic equipment.

Hard Drives.

Business Imaging equipment.

Portable devices eg. Two-way radios, pagers, MP3 players

Modems, Game consoles

Storage media eg. tapes, discs, CDs, DVDs,  memory sticks

LCD/FLAT/CRT Monitors

Copiers, Printers, Scanners, Fax machines

Laptops/Computers/Desktop/Tower Servers

Mobile phones, desk landlines and phone accessories

CDs and DVD Players.
Computer equipment and accessories e.g. cables, Keyboards, mouses, webcams.

Why Secure Document Destruction?
We know the importance of disposing of information that is no longer needed, and we know that more and more of this information is not only stored on electronic devices, in many occasions confidential files are printed for multiple reasons and need to be properly and securely disposed of once they are no longer needed.
Secure document destruction provides individuals and businesses with a safe disposal method for confidential and sensitive printed files and ensures compliance with the Australian Privacy Act and international privacy legislation.
No Contracts | No Accounts | Accredited Drivers