SECURE ELECTRONIC WASTE SHREDDING
WHAT WE DO FOR YOUR BUSINESS
Eshred offers shredding services for more than just paper and multimedia files. Clothing, X-Ray and Media destruction services ensure that your branded materials and other items are kept out of the wrong hands and securely destroyed, protecting your company's reputation.
Fill 240Lt bins with your e-waste, we go to you, load your  e waste into the bins, securely transport your e-waste to our facilities where the e-waste is  physically destroyed before recycling. 
Fill your archive box with your e-waste, we come to you, load your e-waste into our bins. Cost is charged per archive box.
ESHRED IS YOUR E-WASTE ALLY
WE GUARANTEED A CONVINIENT,SECURE AND ENVIRONMENTALLY FRIENDLY DESTRUCTION
WE DESTROY AND RECYCLE YOUR E-WASTE
Your privacy is important to us. As such we will never share your contact information with anyone.
E-Shred Secure Shredding service is a safe, reliable and cost-effective way to destroy sensitive information and records. We ensure environmentally friendly services guarantee the proper destruction and disposal of sensitive paper documents, plastics, and electronic media. 
We provide paper shredding, e-waste services and electronic waste recycling process that protect your professional reputation. E-Shred ensures you never take a credibility hit because of poor records management.  
Our services are based all Australian capital cities and regional areas to ensure your sensitive documents and electronic waste are destroyed.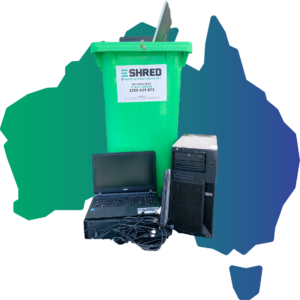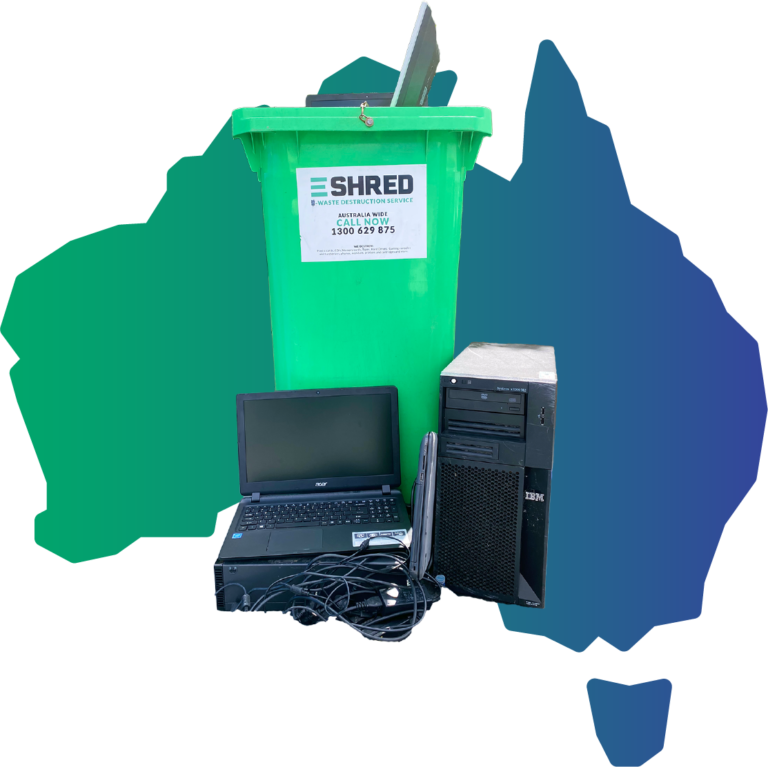 No Contracts | No Accounts | Accredited Drivers
Experience the convenience of off-site document shredding. We take the mess, and the risk, away from your business.
No Contracts, No Hidden Prices
All e-waste for disposal is completely destroyed and the materials are recycled with high-security clearance to ensure confidentiality from the time they leave your site until they go through the destruction process.
Our e-waste destruction services provide reliable, secure and high environmentally-friendly.
E-Shred does not on-sell parts. We recycle materials after they are destroyed.
Certified Equipment Destruction
Keep control of your unwanted equipment and maintain compliance with your company's data destruction policies. We provide a Data Destruction Certificate on completion.
Servicing All Australian Metro and Regional Areas.
Our service area translates into fast and efficient services throughout NSW, ACT, QLD, NT, WA, SA
Contact us to find out more about our data destruction services for your organization.