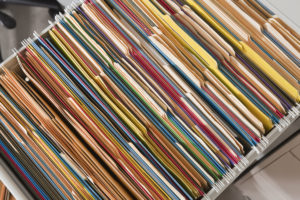 Long after you have completed your business tax return, the mountain of paperwork left behind often continues to haunt you. Numerous reports, spreadsheets and employee information is yet to make it back to its rightful home. Knowing what to keep and where to keep it, as well as what to throw away is important to before commencing the end of financial year declutter process.
Studies have shown that people are 50% more productive in a clean and orderly work environment1. Paperwork is no question a major contributor to workplace clutter and disorder. So staying on top of what to do with paperwork is good for productivity which in turn is good for business.
How long do I need to keep business financial records?
The Australian Taxation Office (ATO) requires individuals and businesses to retain 5 years of financial records.
For registered companies, The Australian Securities and Investments Commission (ASIC) requires 7 years of financial records to be kept.
Likewise, the Fair Work Ombudsman (FWO) requires 7 years of employee records to be retained.
Having a secure archival system for paperwork for files you need to access infrequently is a good idea. This should be combined with a safe and secure location for sensitive files within the office. Lastly, a proven system needs to be in place to safely destroy financial documents when they are no longer needed.
Eshred can tailor a secure document-destruction solution to suit your needs. We can organise a scheduled service with lockable security bins collected daily, weekly, fortnightly or monthly. Or we can provide you with a one-off delivery of two bins, that we'll collect two weeks later. We even offer an economical drop-off option at our Kogarah facility.
To find out more about our services or to book a bin, phone 1300 629 875.
Source: