Electronic Waste Recycling Sydney
This is where we listen closely to you and tailor our services towards your needs.
Confidential electronic waste destruction and recycling is a vital obligation of any business that deals with confidential information in Sydney.
Eshred has experience, providing an optimal and safe electronic waste recycling and destruction solution, which means we guarantee that our processes are reliable, safe and most importantly, environmentally friendly.
We have a variety of services that we can offer for your electronic destruction needs
Electronic destruction Sydney. We know how important it is to dispose of your old electronics properly and we want you to be able to do so in a secure and environmentally responsible way, with the peace of mind and cost-effectiveness your business needs.
Friendly Customer Service
We are happy to help you minimise the costs of electronic waste recycling services.
Environmentally Friendly
Our e-waste destruction services provide reliable, secure and high environmentally-friendly.
Certification
We leave nothing loose. All services come with a Certificate of Destruction for your records
Collection
Choose when and where. We arrive on the scheduled date to securely destroy your materials.
No Contracts | No Accounts | Accredited Drivers
We provide a secure and reliable collection of all your shredding items throughout Sydney. Call us at 1300 629 875 to know if we service your area. Additional fees may apply for Regional areas. Just look at the list bellow
Areas we serve in Sydney
City of Sydney
Inner suburbs
Inner West
Northern Sydney
Southern suburbs
Eastern suburbs
Hills district
Western suburbs
Regional Areas:
Central coast
North coast
South coast
Northern Tablelands
Illawarra
Greater Blue Mountains
Hunter
New England
Murrumbidgee
Riverina
Orana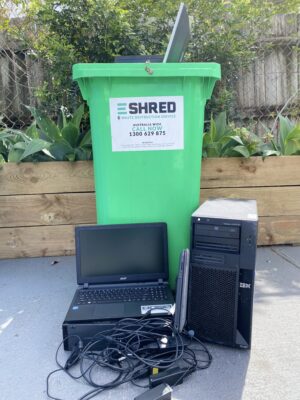 Interested in our Electronic Waste Recycling Service in Sydney?
Why is it important electronic waste recycling?
Australians are among the largest consumers of electronics in the world, and we produce more than 650,000 tonnes of e-waste each year.
As we purchase new devices, we accumulate e-waste that often ends up in the landfill. This has become an environmental concern, as e-waste contains hazardous chemicals that, when exposed to the elements, heat up and release toxins into the air, soil and local waterways.
Electronic waste recycling Sydney is very important because it helps our country's environment by decreasing its footprint, and recycling your e-waste can significantly decrease the demand for heavy metal mining and reduce greenhouse gas emissions from the manufacture of virgin materials.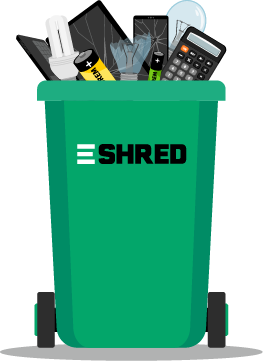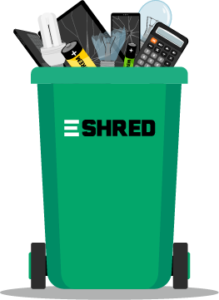 Electronic Waste recycling Sydney
Our customer service team will be happy to answer any questions you may have about our e-waste destruction & Document Shredding Services in Australia. Call Now and Get a Quote today: